Overview of the VIP2 study (POETICS2 in UK)
VIP2 stands for Very old Intensive Care Patients study 2.
An ESICM supported study conducted from the HSRO & NAHP section in ESICM. ClinicalTrials.gov registration. Follow the VIP2-project on ResearchGate.
The VIP2-study was called the POETICS2 study in Great Britain.
---
Background and scope
This study sought to develop a prognostic score for specifically very old, critically ill patients defined as patients ≥ 80 years). This was a large, prospective, multinational, multicentre study. We gathered age-specific information about the elderly patient: frailty, cognitive function, activity of daily life and co-morbidity, in addition to organ failure score. Outcomes were registered as outcome at 30 days (alive or dead) and 6 months in a sub-study. Also, an Frailty score interrater variability was recorded in a sub-study.
Recruitment of patients
The goal was to recruit 20 consecutive ICU patients ≥ 80 years, or continue for a 6 months period. Based on a previous multicentre study (the VIP1) we hoped to recruit 200-250 ICUs and 4000-5000 patients.
---
VIP2 coordinators

| | | | |
| --- | --- | --- | --- |
| Bertrand Guidet | Co-Principal Investigator of the VIP study group and French coordinator | Paris, France | bertrand . guidet @ aphp . fr |
| Dylan deLange | The Netherlands coordinator and Chair of ESICM HSRO section | Utrecht, The Netherlands | d . w . delange @ umcutrecht . nl |
| Hans Flaatten | Principal Investigator of the VIP study group, Past chair HSRO section, | Bergen, Norway | hans . flaatten @ uib . no |
| Alessandro Morandi | | Cremona, Italy | morandi . alessandro @ gmail . com |
| Antonio Artigas | Spanish coordinator | Barcelona, Spain | aartigas @ tauli . cat |
| Ariane Boumendil | Statistician | Paris, France | ariane . boumendil @ gmail . com |
| Brian Marsh | Irish coordinator | Dublin, Ireland | bmarsh @ mater . ie |
| Carole Boulanger | | Exeter, England | carole . boulanger @ nhs . net |
| Christian Jung | Principle Investigator of the COVIP study and German coordinator | Dusseldorf, Germany | christian . jung @ med . uni-duesseldorf . de |
| Finn Andersen | Norwegian coordinator | Ålesund, Norway | finn . h . andersen @ helse-mr . no |
| Ivo Soliman | | Utrecht, The Netherlands | i . w . soliman @ umcutrecht . nl |
| Jesper Fjølner | Co-Principle investigator in the COVIP study, Danish coordinator, datamanager | Aarhus, Denmark | jespfjoe @ rm . dk |
| Joerg Schefold | | Bern, Switzerland | joerg . schefold @ insel . ch |
| Maurizio Cecconi | | Milan, Italy | maurizio . cecconi @ hunimed . eu |
| Michael Joannidis | Austrian coordinator | Innsbruck, Austria | michael . joannidis @ i-med . ac . at |
| Muhammed Elhadi | Lybian coordinator | Tripoli, Libya | muhammed . elhadi . uot @ gmail . com |
| Rui Moreno | Portuguese coordinator | Lisboa, Portugal | r . moreno @ mail . telepac . pt |
| Sandra Oeyen | | Ghent, Belgium | sandra . oeyen @ ugent . be |
| Sten Walther | Swedish coordinator | Linkoping, Sweden | sten . walther @ telia . com |
| Susannah Leaver | United Kingdom coodinator | London, England | susannahleaver @ nhs . net |
| Tilemachos Zafeiridis | Greek coordinator | Larissa, Greece | tilemachos @ hotmail . com |
| Wojciech Szczeklik | Polish coordinator | Krakow, Poland | wszczeklik @ gmail . com |
| Ximena Watson | | London, England | ugm2xw @ doctors . org . uk |
| Yuriy Nalapko | Ukranian coordinator | Lugansk, Ukraine | nalapko @ ukr . net |
---
VIP2 Documents
| | |
| --- | --- |
| Information about the study | Download |
| Letter of intent | Download |
| Timeline for data collection | Download |
| How to perform initial "geriatric" assessment | Download |
| Information to patients and care-givers (template) | Download |
| Study protocol (version Oct. 18th 2018) | Download |
| Paper CRF for offline patient data capture | Download |
---
Clinical Frailty Scale (CFS)
KATZ index of Activities of Daily Living
---
Data entry timeline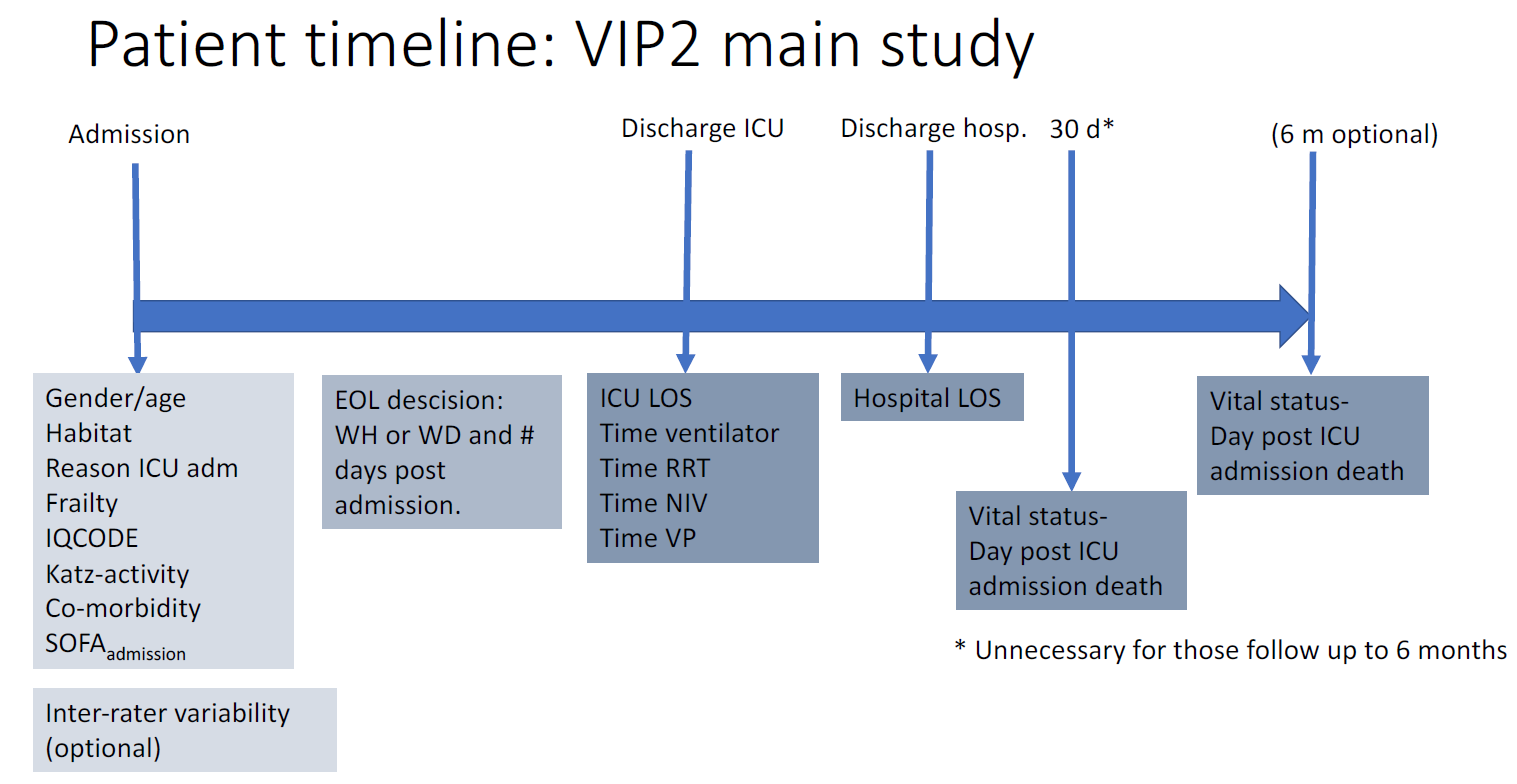 VIP2 site collaborators